Saturday, June 5, 2010 at 03:32AM
The June MOMday Morning giveaway is over and Comments are closed. We will announce the winner by Wednesday! Thank you to everyone who entered!
Good MOMday Morning!
Welcome to MOMday Morning June!
So, here you are at the party but not sure what we are celebrating? What is MOMday Morning?
The 1st MOMday (Monday) of each month B.Y.O.G, Eli's Lids & Blessed Nest will be hosting a giveaway.
Last month our friend Kara- Noel hosted the launch of MOMday Morning! It was a wonderful party. If you missed it, don't worry, we celebrate every Month!

Please take a minute to party with us and see what we are all about. Kara-Noel is too cute so go ahead...take a peek!

Now, meet some of our friends at the party!
This is a big party. There are a lot of people to get to know and gifts to share, so you'll be glad you stayed until the end!
As we've said before, we love the blogging community! Throughout the years, Mom bloggers have loved, nurtured and supported us. We love telling you who has impacted us and why you need to get to know them too!
Our MOMblogger in the spotlight:
Meet Shannon from Rocks In My Dryer
Heather and Shannon are friends in real life and I hope to have the honor and joy of meeting her one day too! I've enjoyed Shannon's blog for years.
Shannon has taken a bit of a break from regular blogging, but it's not hard to spend hours laughing and crying through her archives (we've both done it!). Read about all of the plates she has a -spinnin' and go tell her you need to hear more from the "creaky old blogger who may not write nearly as often as she used to." (Her words, not mine) yeh, whatever Shannon. We need all the wisdom and humor we can get from amazing women like you!
Community in the spotlight:
It's Father's Day month so we had to tell you about one of our favorite dad bloggers! Meet Graham at Tumblon! Heather met Graham through one of her NYC groups, and he has become a great friend to both of us (& to Blessed Nest!).
Tumblon helps parents understand and nurture their children's growth by informing and inspiring them to engage in the joys of parenting. It's such an extraordinary concept, you just have to check it out!

It's not a party without gifts and party favors, right?
1 person will win this gift package!
Commissioned Art, Nesting Pillow & CASH! (cha ching!)

WOW, meet this amazing dad! Joshua Sierk. He's a musician who draws, paints & makes stuff. And you guessed it, he's Heather's friend...
and he brought the best gift to the party! He is giving YOU a chance to win an original piece of art, commissioned just for MOMday Morning! (you may remember the Mother's Day gift that Heather had Joshua make for me, see it here)

"May your nest be warm and blessed."
Another gift for YOU! Enter to win a Nesting Pillow by BlessedNest.com
along with $75.00 CASH
------------------------------------------------------------
Heathers niece, Gracie has amazing parties. At 6 years old, she is my daughter's inspiration for looking outside of herself during her special celebrations! Every year for her birthday, Gracie chooses a charity and asks friends and family to give a donation that Gracie then gets to give to the cause she loves. We hope you will be inspired by Gracie's spirit of generosity and creativity as you check out this great cause...
MOMday cause~ The Cool People Care Shoppe
"The Cool People Care Shoppe sells merchandise that makes the world a better place. Whether it's the unabashedly positive message that Cool People Care or our latest "We Are Nashville" line that raises funds for flood victims in Middle Tennessee, we aim to clothe you for a Lifestyle of Caring."
---------------------------------------------------------------------------------------------------------------------------------
Blessed Nest will be giving away another party prize! We will give 1 more winner a "We Are Nashville
Tote!" These Bags are 100% organic cotton green fabric that has been generously donated by our favorite fabric designer, Harmony Art Organic Design.
Time for the games to begin!
Giveaway open to USA residents

Enter to win prizes, here's how~
1) Required to qualify for a win. Tell us what you'll do for the favorite dad in your life on Father's Day! Leave in comments here on our perch.
2) For 5 extra entries, make a purchase of at least $15.00 from Cool People Care supporting flood-relief in Nashville! Forward me your receipt to Nest@BlessedNest.com (just think... if all of us spent at least 15.00, we could raise over $2,000 in a few hours!)
3) For 1 extra entry, visit Tumblon.com & tell us what you love about this site and leave a comment here telling us! (get a bonus entry if you become a member of the Tumblon community)

4) For 1 extra entry, visit Joshua and tell us about your favorite art piece from his collection. Leave a comment here on the perch.
5)Follow us on Twitter. Leave a comment here telling us you did so.

For 1 extra entry follow:
Blessed Nest on Twitter
Eli's Lids on Twitter
B.Y.O.G on Twitter
Joshua on Twitter
Tumblon on Twitter

Cool People Care on Twitter
6) 1 extra entry (per day) Tweet, Tweet- re-tweet. Tweet about this giveaway using the #MOMdaymorning hashtag & @blessednest plus link back to this post. Be creative. Leave a comment here telling us you did so! example (Brighten up ur #MOMdayMorning & enter 2 win crazy good stuff enter at the perch http://tinyurl.com/22kjhy7 @BlessedNest @elislids @byog )
7) Tell us you "like" us on Facebook and leave us a comment here telling us you did so for 1 extra entry

To sum it up.....
1 winner will get $75.00 cash, Nesting Pillow, Commissioned Art Work
1 winner will get a "We are Nashville Tote Bag"
Please view MOMday Morning guidelines if you have any questions or e-mail us at Nest@BlessedNest.com
Giveaway closes 9:00pm PST on June 21st, 2010
Phew! We TOLD you this was going to be fun!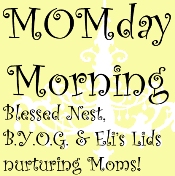 Heather and Donna
|
Comments Off
|
tagged
giveaway
in
MOMday Morning